Date: April 24, 2018
Final Report
Thank to Movies that Matter for supporting the presentation of the documentary films of the Festival -2017 in the most remote regions of Kyrgyzstan.
Initiated by the Organizing Committee of the International Documentary Film Festival on Human Rights, a Regional film festival was conducted from March 9 to 20th 2018 by Bir Duino Kyrgyzstan together with the Association of Community Media of Kyrgyzstan,
https://rus.azattyk.org/a/kyrgyzstan_contest_bishkek_galich/24344509.html
In 2017 was the 11th year of the Festival, so Bir Duino sought to connect the regions to the capital city of Bishkek through arts and innovation. International Human Rights Documentary Film Festival "Bir Duino – Kyrgyzstan 2017" was held under the slogan: «Human Rights and Freedoms or Sustainable Development». The goal of the Festival-2017 was not only to enhance civic participation, but also to motivate citizens to seek a decent life through sustainable development. http://www.birduino.kg/en/press/671-final-report-xi-international-human-rights-documentary-film-festival
The festival contributed to the achievement of 17 sustainable development goals, which outline a universal, integrated and transformative vision for a better world, enhancing economy growth, social integration and environment protection.
The Festival is the only human rights documentary film festival in Central Asia, aimed to increase the human rights awareness among wide audience by showing documentary movies on human rights, as well as to motivate the documentary cinematographers.
Regional Film Festival -2017 on March 2018:
Bir Duino and the Association of Community Media of Kyrgyzstan organized 18 screenings in nine locations across the country to screen fifth winner films from Bir Duino-2017 and film of WLP successfully achieved its six main objectives by:
1) Building awareness on various issues related to national, regional and international human rights;
2) Helping local communities to develop a model for public debates and discussions;
3) Developing connections between rural and urban areas within the country;
4) Gaining an understanding of local perspectives and need for greater involvement of civil society throughout the rural regions;
5) Promoting and publicizing an example of innovative civic engagement; and
6) Raising awareness of discriminatory laws related to the status of women, such as those that allow child marriages, favor men in divorce, limit women's economic engagement or condone domestic violence. They threaten safety, wellbeing, and freedom of women and girls.
Bir Duino believes this was an excellent experience and partnership with the community media association and we are better prepared to organize similar events in the future.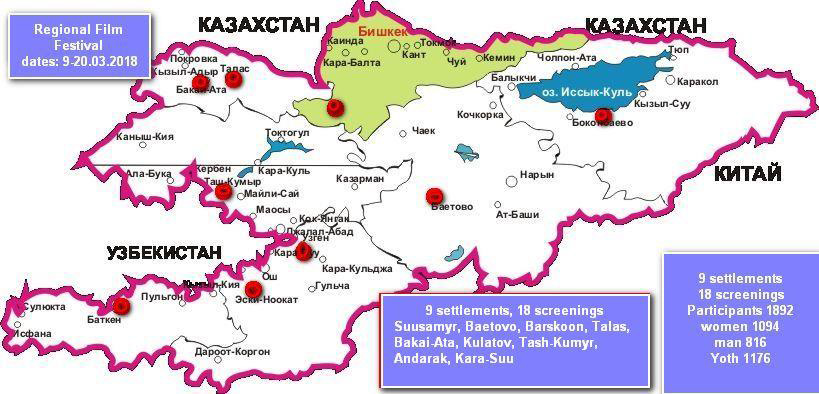 Partners:
The Association of Community Media of Kyrgyzstan?1 is a non-profit organization and includes all the community radio stations and media from the most remote places in Kyrgyzstan. Community radio in particular is crucial for providing an outreach mechanism for increased access to education, self-expression and communication among rural and hard-to-reach population. Such radio stations allow communities to have a sense of ownership about their own development agenda, becoming self-empowered to publicly express opinion, debate issues, and promote their culture, history and language.
All the work of the community media is connected with modern ICT and mobile technologies, from preparation of the material to publication. The software of mobile phones that use social media to create content is as simple as possible for communities.
Festival Program: The winning films and the film of WLP were selected to be included in the Regional Film Festival:
"Letters from Pamirs"/ Janyl Jusupjan/ Kyrgyzstan, France, Tadjikistan
In the foothills of the Pamirs, on the territory of Tajikistan Kyrgyz people - ancient Turks and children of nomads live apart. Their daily work is to get along peacefully with Tajik neighbors, which is a rarity for Central Asia, which has been torn by conflicts for more than a century. Colonial and political ambitions, wars, ethnic cleansing and economic inequality have always divided these lands into opposing territories.
"Life is wonderful"/ Azamat Sharshenov/ Kyrgyzstan
The film is about the life of the family, which has to struggle every day. Members of this family are blind and partially sighted people. Despite the life difficulties they face every day, the protagonists are so powerful. They do not complain and do not expect help from anybody; they work, study and keep their house clean. On other side, the issue of lack of attention from the state authorities is raised in the film.
"We are humanity"/ Alexander Dereims/ France
1 http://kyrgyzmedia.com/
The Andaman Islands, far out in the Indian Ocean, are home to the Jarawa. Descended from the first humans who left Africa 70,000 years ago, they lived in Asia in complete isolation. Today, the last 400 members of the tribe are trying to protect their paradise. They are endangered by traders who provide them with alcohol and tobacco, and by tourism. The Indian government is trying to assimilate the Jarawa, not taking into account the fact that their world has different rules. Those who abandon the white sand beaches thus often end up in filthy big cities. This documentary is the first time that a film crew has been able to come close enough to the Jarawa to capture a world where people are still free and unconditionally happy.
"Seed: the untold story"/ Taggart Siegel, Jon Betz/ USA
Just behind the Arctic Circle on the island of Spitsbergen stands a concrete structure that resembles a bomb shelter. It contains thousands of plant seeds from around the world, which are guarded there against a possible global crisis. Several similar seed banks are scattered worldwide. Each seed concentrates within itself and carries the past life cycles of nature and humans, while also being a seed of the future. Farmers and other activists are trying to save the last remnants of local varieties of vegetables in the world of genetically modified farming. Their struggle against the multinational food giants seems like a cry in the darkness. But perhaps one day soon the fate of humankind will depend on these banks.
"Nuclear neighbor"/ Fredrik Oskarsson/ Sweden
Hanna, a teacher, moves with her family to rural northern Finland, so that her 3 children can grow up in a natural environment. They receive unexpected news that a nuclear power plant will be built near their peaceful home. Hanna joins the community protests and is soon devoting all her free time to them. She becomes a fulltime activist and is even invited to enter high politics. At the same time, she is constantly looking for an answer to a crucial question: should she concentrate on the current needs of her small children, or should she try to positively influence their future by promoting better laws? This documentary sensitively follows the protagonist as she comes to terms with a role she never expected in her life.
"Mustafa"/ Ernes Sarykhalilov/ Ukraine
The documentary "Mustafa" reveals the story of Mustafa Jemilev, the leader of the Crimean Tatar people. Under his belt are long years of confrontation with the Soviet regime, 15 years of imprisonment in prison camps, the longest hunger strike in history that lasted 303 days, the struggle for the return of the Crimean Tatar people to their native land in the 90s and today. Mustafa Jemilev is a symbol of peaceful opposition to discrimination and violation of human rights.
"Ata Beyit"/ Alijan Nasyrov/ Kyrgyzstan
The film tells the story of innocent people shot during the Stalin's Purges of 1937-1938. One of the unknown burials of the victims of political repression was found near Bishkek in 1990. 137 human bodies were found in it.
Special prize "For Human Dignity and Children's Rights"
"#Devenir"/ Guido Freddi/ France, with support of the Caritas France Program "Together against human trafficking"
А 30-minute fiction film released by Guido Freddi, based on actual events and presented in three separate modules. We follow the ongoing story of the trafficked children and protagonists featured in the first short film. Associations are providing support to Anne, Farih and Gabbi. The film also revisits Alex, the minor who is an accomplice/victim of the network responsible for the abuses suffered by Anne. We become more acquainted with two unaccompanied minors, Bazir, a young
Afghan and little Nicolai. This new episode untangles the difficulties encountered by the support workers and children in this difficult journey of recovery. But it also highlights the different levers that enable them to create a future for themselves and to regain their lives.
"Equality: It's All in the Family"
The Women's Learning Partnership's newest documentary illustrates the spectrum of discriminatory family laws around the world. Drawing on expertise from prominent human rights activists and leaders, the film examines the root causes of these laws and highlights the path toward legal reform. This documentary is just one part of WLP's global initiative, Family Law Reform to Challenge Gender-Based Violence.
Toguz-Toro, Sary-bulun village
These films allowed me to see women's influence in the society. If we have more such activists and leaders, and if the society supports them, this will help promote and protect women's rights in the most remote areas.
Suusamyr: "If we look at the world around us, we will see that, regardless of the skin and eye color, status and education, women face discrimination and violence… However, women leaders, who manage to change laws through stories of their own as well as other women and not give up, standing strong together and supporting each other, produce results. Sometimes it takes years."
Nazima Koichueva, Suusamyr, Tunuk village, 34 years old : "I think it is right that such films are being screened in the remote regions and villages. Discrimination and violence are very common in those regions, on a smaller scale than shown in the film, but they take place and we cannot deny it… When my mother or grandmother tell me about life in their times, I get scared, because their status and role in the family were diminished, they faced violence, and the worst part is that they considered it to be the way it should be".
Aiat Orozalieva, retiree, Suusamyr: "Different kinds of treating women are demonstrated in the film. I was personally touched by the way we don't pay attention to the role of our girls in the family. We are happy when a boy is born, but if a daughter-in-law gives birth to a girl, we don't like it, we blame her for being able to give birth to girls only… Whereas girls are very close to their parents and always try to help them in every way. Those are relics of the past, that we have been keeping to this day."
Atabek Shamirdinov, Suusamyr, 30 years old: "I thought about the idea that men have created a patriarchal regime, i.e. we have established rules and roles a long time ago and live according to them, we are afraid to break them and change our attitude towards women."
Nurjan Osmonov, Talas: "I was surprised by the fact, that America as a democratic country violates the rights of women and does not provide them with maternity pay. Thus, in developed countries women's rights are violated as well. I was also puzzled by the fact, that women are deprived of inheritance and reduced to begging... In our country girls also do not have the right to paternal inheritance, inheritance rights are conferred on sons... Nobody thinks about girls. A girl is believed to be just a guest in her father's family, who will become a member of another family."
Asel Toktobekova, 36 years old, Bayetov, Naryn: "In fact, you need to start with women's equality in the family. For example, if the father always degrades the mother, their son will take after his father when he grows up."
Turgun Asankodzhoev, private entrepreneur, 45 years old: "A man in the film says that he feels satisfied and strong, when he beats his wife, it made me angry. We have never laid a hand on women in our family and have always treated them with respect."
Burul Batyrbek kyzy, 32 years old, Bayetov, Naryn: "We always insist that legislative reform is necessary, but we cannot change traditions and customs. I think it takes years to change people's minds."
Debates: After the screening of each film there was a public debate. Debates lasted from 10 to 30 minutes depending on the film being shown. The debates mainly focused on the topics reflected in the films, such as migration, gender inequality, and political participation.
Venera Aalieva, Bayetovo village, Naryn: "This is the first time I participate in watching documentary films on human rights. These films are very important, they should be shown in schools and to young people in general. The films show the fortitude and strength of the spirit of people with disabilities, the desire for change and patriotism, understanding of one's history and a reassessment of historical facts."
Batken oblast, Andarak village:
Nurgazy Ismanov, Director of the school in Sary-Dobo village: "The documentary films have impressed our school. The discussions that took place demonstrated the importance of human rights and I think they laid the foundation for the future and taught us very important life lessons. Today young people are passionate about watching entertaining feature films, whereas these documentary films have shown real people and real life not only in Kyrgyzstan, but also all over the world, such films are needed today and we are ready to continue to assist in organizing the screenings in the future."
Sukhrob Ergashev, Andarak village:
"We teachers need these films very much to raise the important topics of human rights, migration, human trafficking, domestic violence through discussions... The films are a reflection of the present day reality and they cannot leave anyone indifferent."
Audience: The number of participants at each debate varied depending on the location. Each location had around 20 to 70 participants attending the film screening and debates, averaging at 50 participants at one location. The gender of the audience also greatly varied in different locations. Overall, there was a higher number of women participants than men. In most screening locations there was also a high number of youth (age 15 to 24) and elderly participants (age 50 – 70).
Media: information about upcoming screenings was distributed through community radio
Impact: The impact of the project was extremely important for the organization and for other non-governmental organizations (NGOs) working in Kyrgyzstan. The project was an opportunity for citizens living in remote areas of the country to learn about human rights and human rights organizations. Audience members were able to ask targeted questions about the NGO and its activities, as well as about the Film Festival in Bishkek. Many members of the audience expressed interest in attending the main Festival in Bishkek in November 2018. Reaction of the audience was generally very positive, which is a huge accomplishment for the festival. This proved that there is a real need and desire of rural citizens to learn and grow through cinema, all screenings received very positive feedback and were greeted with a lot of gratitude. Often local schools requested the films to keep for future screenings for children. The Regional Festival also served as a good
platform to give more information about the main Festival in Bishkek, that was conducted earlier, to a wider audience, which has never been achieved before.
Lessons Learned: In the future Bir Duino plans to organize a similar project with several changes based on this year's experience. In regard to the organization of screenings, as mentioned above, it is key that all future local partners already have some network of local activists to organize the screenings.
Bir Duino plans to initiate this process much earlier to ensure a wider promotion of the local screenings. Bir Duino also plans to keep in contact with the local coordinators and activists that were most effective in promoting the event in 2018. Another major point that was learned during the project was the importance of timing. Better coordination should be established with local partners to identify the best time for local communities to attend screenings. Another important lesson learned from this experience was how many screenings are logistically possible.
Future Plans: Next steps have already been taken to bring the Festival Program into the school system to provide educational opportunities for students to explore human rights in both national and international contexts. Bir Duino plans to implement a similar program in the following year. Another feature that will be added to next year's film festival is "Regional Jury". Bir Duino will distribute evaluation forms to all audience members allowing them to select the best film of the Regional Festival. The film, that receives the most votes, will be selected for a Regional Competition Prize.
We will also continue our partnership with the Community Media in working on civic education and promoting human rights through documentary films in all 24 media centers and raise awareness on the role of local community media in involving local people in decision-making process and real participation on local and national levels.