The Human Rights Movement "Bir Duino-Kyrgyzstan" announces the start of applications acceptance for participation in the XIII International Festival of Documentary Films on Human Rights "Bir Duino-Kyrgyzstan - 2019", dedicated to the 30th anniversary of the Convention on the Rights of the Child
Festival dates: from 11 to 15 November 2019, Bishkek
The Human Rights Movement "Bir Duino-Kyrgyzstan" announces the start of applications acceptance for participation in the XIII International Festival of Documentary Films on Human Rights.
According to the decision of the Organizing Committee, the next, XIII International Festival of Documentary Films on Human Rights - 2019 will be devoted to the Sustainable Development Goals of the Kyrgyz Republic and the 30th anniversary of the UN Convention on the Rights of the Child.

The slogan of the Fest-2019: "Children's voices and participation"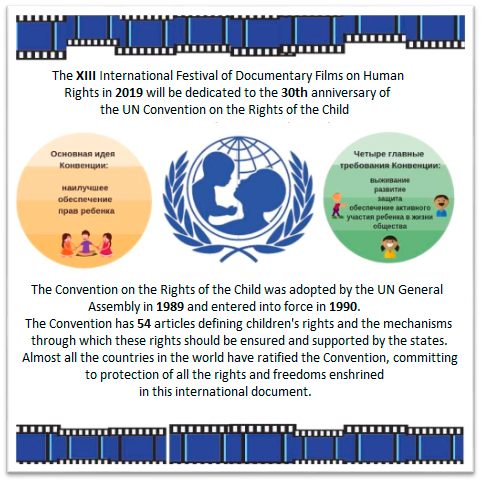 The following workshops will be conducted within the framework of the festival:
Child participation
Violence against children
Child-friendly justice
Children and migration
The digital environment
Anti-Discrimination
Child-friendly social services
Child-friendly healthcare
Children and Austerity
Children and Parliament
For information: The International Festival of Documentary Films on Human Rights is a wide horizontal participation Civic Platform that has been raising the key topics of Human Rights and Freedoms in the changing world since 2007.
In 2018, the Organizing Committee dedicated the Festival to the 70th anniversary of the UN Universal Declaration of Human Rights, which proclaimed respect for human dignity, universality, fundamental human rights and freedoms. The slogans of the festival were: "Today, we'll change tomorrow", "Today, we work for Tomorrow!".
Films that highlight the rights of children, children with disabilities, children of migrants, refugees, as well as films that reflect innovative methods of solving systemic problems in the field of children's rights protection in Kyrgyzstan, as well as at the regional and international levels are welcome.
Applications submission period: from 18 June to 31 July 2019.
Thedocumentaryfilmdurationshouldnotexceed 60 minutes.
To participate, you should complete the attached form, which can be found at the web site www.birduino.kg in section Festival-2019.
Application can be downloaded by following the link.
Should you have any questions, please, feel free to contact us at:
Web site: www.birduino.kg
E-mail: This email address is being protected from spambots. You need JavaScript enabled to view it.
Tel.: +996 312 383 330; +996 556 013 840
Fest-2019 Organizing Committee